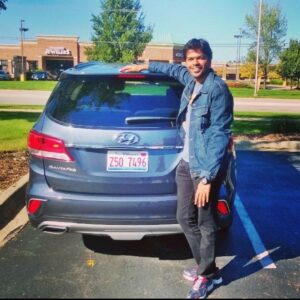 I travelled to US for a work-related assignment in the month of August in 2016. When I came out of the airport, I was fascinated by the type of cars that I was seeing. There were brands which I had never seen like Dodge, Lincoln, Lexus, Infiniti, Acura, etc. I must have seen them in the Hollywood movies but never in front of me physically. I was excited and looking forward of driving one of these one day. As I started my journey from the Airport to the Hotel Accommodation, I noticed that the speed of the vehicles was much faster than what I was used to back home. While there were Speed Restrictions on each of these roads, but still those were very fast as per my initial reaction. For example, the speed restriction on one of their highways which are also known as freeways was 70 miles per hour which translates to roughly 112 kms per hour. I was thinking how I will be able to drive at such high speeds.
After getting my initial set up done in a week's time, I realized that car was not a luxury but a necessity for me there. As I was living in a Suburb, the daily commute to office needed a vehicle as the public transport was not available on my route. So next thing I needed to do was to get a Driving License. There are few states in US which allow you to drive on your Indian Driving license, but I was not confident of driving as the rules are different. Like we drive on the Left side of the Road and our cars have steering on the right side of the car whereas there people drive on the right side of the road and cars have steering on the left side of the car. I needed to learn and understand these rules before getting behind a steering wheel. I checked for the procedure to obtain a license. There were 2 steps involved. First you need to give a written test which consists of 35 Multiple Choice questions. To pass the test, you'll need to answer at least 28 of them correctly as the passing score is 80%. I studied the rules and prepared for the exam in a week.
The day of the written exam, I was nervous as if I fail the exam then I will not be able to drive a car sooner and would have to wait for long. Thankfully I was able to pass the exam and I got my Learner's License in the first attempt. I was thrilled as the next step was getting into a car and practicing the rules which I had learnt. As per the rules, the Learners License is valid for 3 months and there needs to be a co-passenger who has a permanent driving license present all the time while I drive. Next thing I did was rent a car. The nearest car rental service provider was Enterprise just like ZoomCar in India. I had decided to go for a Sedan car as that would be easy to drive size wise. I booked a Sedan car for the weekend on Friday and went ahead to pick it up after office hours. To my surprise, all the Sedan cars were already rented out and the only option they had left was an SUV. The Car Rental Service Manager told me that I can drive that SUV for the same price that I had paid, and I will not be charged anything extra. The cost of renting an SUV was almost double of that of a Sedan. This was a great deal for me. But the question was will I be able to handle the size and functioning of an SUV in the first attempt? I was supposed to directly take the car on a live street and had no room for practice.
As I had no other option but to jump into taking this opportunity, I went ahead. The car which I had got was a Hyundai SanteFe. I adjusted the mirrors, driving seat and understood the mechanics of driving an automatic car. I was anxious while driving, slowly increasing the speed while getting used to the size of the vehicle. I had to subconsciously remember that my legs had to focus on only Accelerator and Brake as there was Clutch involved. I had to keep my both hands on the steering at all time as there was no need to change the gears as it was done automatically based on the speed. There knob had 3 options, P-Parking, D-Drive and R-Reverse. Slowly but gradually I was getting used to this new process of driving a car. I had to also follow lane discipline as everyone else on the road and change lanes only while making a turn. Processing all these things brought back memories of what I had felt while driving a car for the very first time in my life.
I remembered the dialogue from Iron Man, "Sometimes you gotta run before you can walk!".
---